Press Release 6/15/20
Ritual Dispensary, in partnership with CULTA, Grassroots, Green Thumb Industries, Holistic Industries, Sunmed Growers, Verano Brands and Maryland Cannabis Patients, raised $11,239.04 for Maryland Food Bank through their Karma Jar Program!
Ritual, a local medical cannabis dispensary located in Curtis Bay, uses the Karma Jar as a way of giving back to the community it serves. Each month, a local Maryland charity is designated as the beneficiary. Patients then donate funds to the jar during their visits. At the end of the month the funds are counted and delivered to the designated charity.
For the month of May, CULTA, Grassroots, Green Thumb Industries, Holistic Industries, Sunmed Growers and Verano Brands recognized this as a great opportunity to help those in need, and agreed to join with Ritual in matching the funds donated by patients. Throughout the month, these companies ran an awareness campaign, resulting in $1239 raised by patients, and $10,000 raised by Ritual and its vendor partners!
"Now more than ever we need to band together to support our community. The collaboration between Ritual Dispensary, our patients and our vendors shows how much the local cannabis community is willing to be there for each other in times of need. The Maryland Food Bank is an amazing organization, which we are all proud to support. We look forward to more opportunities for the local cannabis community to come together to support the Maryland Food Bank and other deserving organizations within our community," said Dr. Gina Berman, Clinical Director of Ritual Dispensary.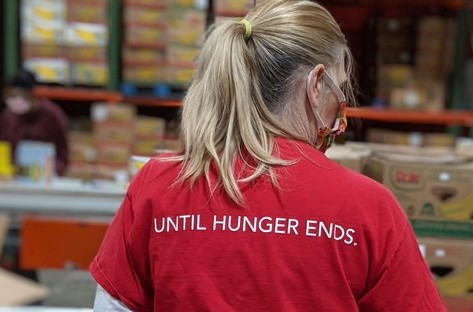 Donations will go towards the purchase of food for children, seniors, and working families across the State struggling with food insecurity – as well as those facing hunger for the first time due to COVID-related layoffs. The funds raised will help the Maryland Food Bank distribute shelf-stable groceries and produce to those in need.
"We want to thank Ritual Dispensary for organizing this collaborative effort with its patients and vendors to support the Maryland Food Bank in this time of great need.  The efforts will go far to support our mission of feeding people, strengthening communities and ending hunger for more Marylanders", said Nancy Smith of the Maryland Food Bank.
Every $1 raised will result in 3 meals delivered to those in need. The work of the Maryland Food Bank involves more than distributing food to those in need. For their beneficiaries, the relief creates hope and inspiration, knowing that someone cares and is looking out for them and their families.  It's a trying time now for families and someone has to be there!